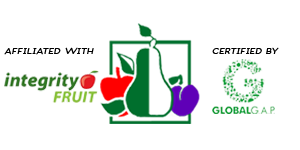 Who Are We?
---
H/V McNAB & Son Pty Ltd is a long-established fruit growing and fruit storage enterprise based at Ardmona in Victoria Australia.
A parallel division operates a Murray Grey cattle stud and a fodder production facility.
Selected by Victor McNab, a respected geologist, in 1910, the Ardmona property is said to be on some of the best soil in the world. A comprehensive irrigation system allows the growth of quality fruit and crops, and provides excellent grazing for cattle.
Four generations of the McNab family have managed the business, with an ongoing commitment to the latest technology in all areas. Many changes have been made in the planting, pruning and watering of fruit trees. The cool-storage of fruit is computer-controlled, equipment is regularly maintained and staff are fully trained. All operations are monitored by our ISO 9002 Quality Assurance Standard.
Family History