HERE'S WHAT WE'VE GOT FOR YOU
OVER 23 VARIETIES OF PEARS, APPLES, PEACHES & PLUMS ARE GROWN ON OUR ORCHARD

WHY DON'T YOU TAKE A LOOK AT THE RANGE LISTED BELOW
WBC (WILLIAM)
FOR CANNING AND EARLY FRESH MARKETS
COLOUR GREEN TO YELLOW
MID JAN – EARLY MAR
BUERRE BOSC
DOMESTIC AND EXPORT
COLOUR BROWN
EARLY MARCH
SENSATION
DOMESTIC MARKETS
COLOUR RED-MAROON
MARCH
PACKHAM
FOR THE DOMESTIC AND EXPORT MARKETS
COLOUR GREEN
MID FEB TO EARLY MAR
JOSEPHINE
DOMESTIC AND EXPORT
COLOUR LIGHT GREEN / YELLOW – ROUND SHAPE
MID TO LATE MARCH
ADDITIONALLY, 7 VARIETIES OF PEACHES & PLUMS ARE GROWN FOR THE CANNING INDUSTRY
THEY ARE HARVESTED BETWEEN MID JANUARY & MARCH

GALA
DOMESTIC MARKETS
CREAM BACKGROUND AND ORANGE / RED COLOURING
SWEET TASTE
FEBRUARY
GRANNY SMITH
DOMESTIC AND EXPORT MARKETS
COLOUR DEEP GREEN
SHARP JUICY FLAVOUR
LATE MARCH – APRIL
SUNDOWNER
DOMESTIC AND EXPORT
COLOUR LIGHT GREEN / RED WITH PINK COATING
BALANCED FLAVOUR
MAY
GOLDEN DELICIOUS
DOMESTIC MARKETS
COLOUR LIGHT GREEN / YELLOW
SWEET TASTE
MARCH
PINK LADY
DOMESTIC AND EXPORT MARKETS
COLOUR LIGHT YELLOW / LIGHT GREEN WITH BRIGHT PINK SPLASHES
BALANCED FRESH FLAVOUR WITH LEMON HINT
MID APIL -MAY
STORAGE
We provide cool storage of fruit for a number of customers and dry storage of other products.
The dry storage facility can accommodate up to 4000 pallets in a cool, clean, vermin-free environment.
The cool-storage rooms can be either conventional cool storage or controlled atmosphere cool-storage. All rooms are computer monitored and controlled. The total room capacity is approximately 4000 bins of fruit. H V McNab & Son Pty Ltd also provide a facility for dipping fruit prior to storage.
---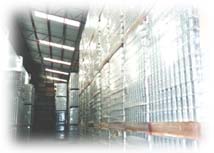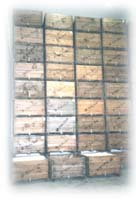 ---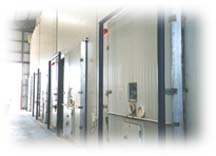 ---